Xrosswater
LED Lights

and

Telescopic Poles
The Spring Assisted Telescoping Mechanism Allows The Light To Be Lowered Safely And Easily.
Simple Vertical Travel – No Rotation Path Required
Proprietary Compression Spring Assist makes raising and lowering safe and easy, including heavy floodlights.
Fully site adjustable between 5-10 ft.
Internal conduit for cable protection and moisture resistance.
Single screw loosening for raising and lowering.
No nuts, safety pins or tethers.
Mounting brackets for any application.
Optional harsh environment lock collar cover.
Xrosswater telescoping light poles
Application
For luminaires installed on industrial walkways, platforms, stairways and conveyors where OSHA/HSE regulations require fall prevention equipment
Hard to reach or dangerous areas where safety is a big concern
Hazardous and harsh environments subject to corrosive agents, vibration and extreme temperatures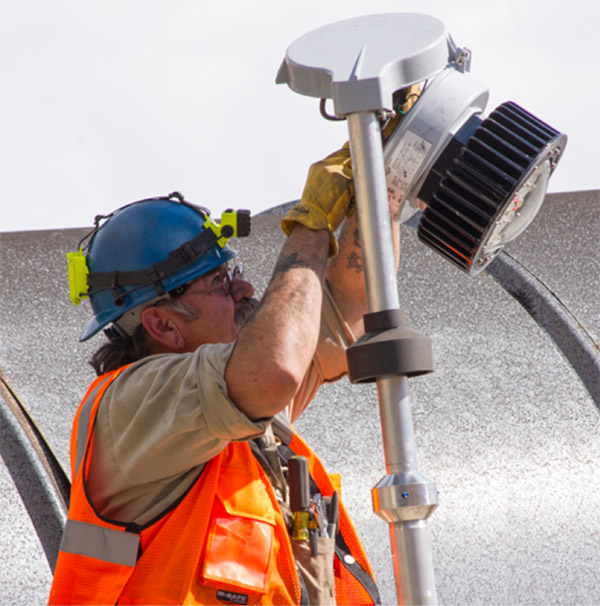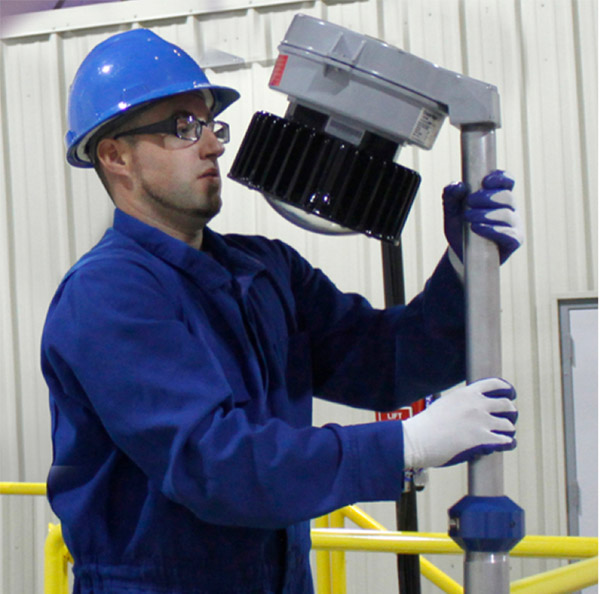 Easy fixture orientation
Adjustable 360° pole rotation allows for effortless positioning of light
Simple vertical travel
Easily extend to any raised height – one product covers multiple mounting heights
Luminaire housing will not fall from mounting module hinge hook during installation or maintenance
No pinch points – protects hands and fingers
Less force exerted on handrail
Simple Operation
Innovative design eliminates consideration of surrounding obstructions
Telescoping design allows for safe transport on job site
Easily adjust fixture position from ground or walkway
Designed for harsh environments
Classified and hazardous locations
No lubricants or maintenance required
Rated for corrosive, wet, dusty, hot and cold conditions prior to use of optional harsh environment cover
Rugged construction
2″ bottom pole for higher structural wind ratings
Internal conduit for cable protection and moisture resistance
Fully assembled and wired
Factory assembled wired and sealed for maximum environmental protection
Reduces installation time
Ideal for mod yard construction
Significant cost savings
Reduce initial and long-term costs
The only pole replacement solution listed for classified and hazardous locations.
Xrosswater
LED oblong spread walkway light
Electrical Ratings
Voltage Range, VAC
120-277
120-277
Frequency
50/60 Hz
50/60 Hr
Input Power (Watts)
29
43
Input Amps at 120-277 VAC
0.24 – 0.11
0.35 – 0.16
Voltage Range, VDC
108-250
108-250
Power Factor
> 0.90
> 0.90
Total Harmonic Distortion (THD)
< 20%
< 20%
Nominal Lumens (Type V) F
3,531
5,335