Multi-configurable Floating Structure for Industrial Marine Applications
Xrosswater produce a unique industrial strength, pre-fabricated, bulk shippable floating structure, designed for use in mining, dredging, dewatering, tailing dam, tailing pond reservoir and other industrial water applications. Otherwise referred to as Jetty, Dock, Pier, Barge, Pontoon, Floating Bridge.
Unlike large corporation who favour expensive "local" presence through a network of office location, Xrosswater utilises modern digital communication methods to stay even closer "anywhere in the world", without incurring the related large overhead costs which inevitably get passed to the client. Xrosswater's favoured structure has enabled us to complete 23 projects, in 12 countries over 5 continents, provide the best, sometimes turnkey solutions, offering value for the client wherever they are. Our resources and 27 years of experience in industrial marine application ensure our clients receive the highest quality and hands-on service they expect. The company has always embraced challenging and custom projects which all require a product that is designed purposefully for the industrial marine market.
Manufactured in USA and Europe under ISO quality control, Xrosswater offer a structure that is:
extremely versatile with multiple configurations,
immensely strong,
bulk shippable
durable
value for money
supports social economic local work forces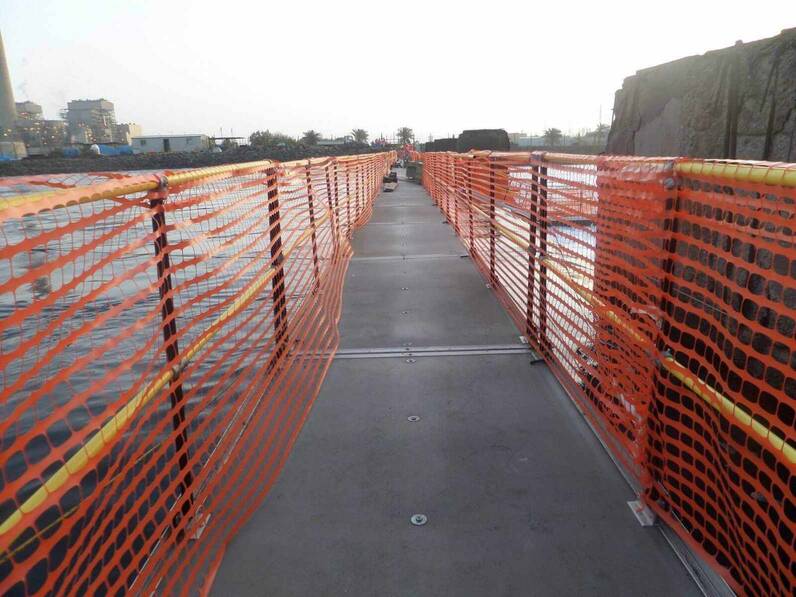 WHY XROSSWATER?
We are able to offer a high quality, robust walkway system that will last longer and be delivered to a mine location at a cost unmatched elsewhere. Being supplied in component form, we are the only company, capable of shipping 500 m x 1.5 m (1640 ft x 5 ft) in 1×40 ft container to worldwide destinations from our assembly plants in USA and Austria.

Pioneering to service clients that operate in extreme cold locations of the world, Xrosswater, with the assistance of a US Military testing facility, reduced the temperature of the floats to – 40F (-40c) for 24 hrs to saturate the material and then completed impact testing of loads over 100kg from 1.2m high. No cracking or visible damage was reported.
See why XROSSWATER is different