Floating Walkways
Structures that can be delivered worldwide – economically
The components of the Xrosswater floating walkways are pre-formed, pre-drilled and freighted either assembled or in crates with all necessary fasteners and tools included, facilitating rapid assembly and quick deployment anywhere in the world. Projects completed in Sub-Sahara Africa, Amazon jungle, Northern Canada, and in the mountains deep in Asia.
So whether the requirement is a walkway, a cable / pipe support, a pump platform, or work platform Xrosswater can offer an affordable solution. On-site assembly training is offered.
Option 1: DELIVERED
RTA (Ready To Assemble)
When we ship in a RTA (ready to assemble) format, all the fitting and components and packed in crates. Each crate contains 21 meters x 1.5m. A jig is supplied together with all the specialized tools and drive bits required (power tools cannot be supplied due to power consumption issues (120v vs 220v) This option is excellent when the requirement is approx. 200 + meters in length and economically valued assembly team are available and the site location is secure. On site training can be offered. Once container is unpacked and worksite ready, the assembly team of 2 to 3 semi skilled fitter can build one 3m x 1.5m section is approx. 25 minutes.
Container volume

✓

6m

container 250m.
✓

12m

container over 500m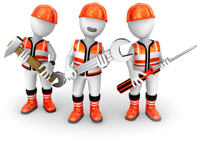 Option 2: DELIVERED
SEMI-ASSEMBLED
(The most popular option)
When we ship SEMI – ASSEMBLED, we assemble the section and stack them inside shipping container. We also assemble all the handrails where possible , which are stacked inside the container. Assembly time for 2 semi-skilled fitters to attach handrails and join the walkway together is approx. 15 minutes
Container volume

✓

6m

container 30 to 40 meters
✓

12m

container 72 to 96 meters

Option 3: DELIVERED
FULLY ASSEMBLED
When we ship fully assembled, we assemble and attach everything. This includes handrails, LED lights*, deicers*, electrical junction boxes* etc. This is the best option when site costs are high, climatic conditions are unfavorable for sitework and quick execution is required. This option is normally applied to the pivot (snake) walkway or Xrosswater foldable heavy lift walkway (1.7 tonne buoyancy)
* = Optional fittings
Shipping volume

✓

14m

per flatbed truck
✓ COMING SOON –

PIVOT

and

HEAVY LIFT

walkway
packed in containers = volume 72 meters