Projects Completed – Floating Walkway, Dock, Jetty
Our latest completed floating walkway projects are listed below. We have worked on floating walkways on a myriad of projects, including mining tailing ponds, oil tailings reservoirs, hydro mining, dredging and dewatering projects, the Xrosswater floating walkway system is applicable to many different scenarios.
toby
2021-12-03T02:54:38+01:00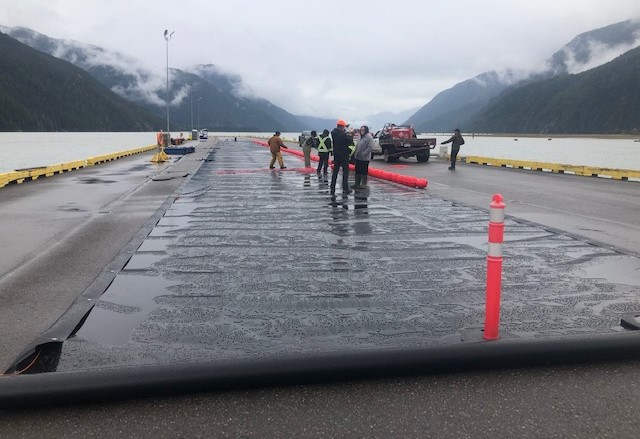 Xrosswater was awarded a unique project at Newcrest Red Chris Mine in Northern British Columbia, Canada. The project; to build 300m walkway and a 6m deep x 300m long barrier to prevent the tailings sediment from entering the pump and thus back into the plant. Xrosswater was given only 10 weeks to Design, Supply, Assemble and Install the project. The walkway support the barrier and assists the buoys in pulling the barrier through the tailings as the water level increases. 70 meters of Xrosswater walkway were delivered and installed in October 2021 with deicers and LED switch gear with the balance 231m in Spring of 2022. The barrier produced in Austria was HDPE, each section was 100m long x 6.5m wide. Stainless steel eyes were inserted with floating buoys for Norway and 6 tonnes of anchor chain to secure the barrier in position. The barrier was assembled, folded, shipped to the mine and then launched and unfolded in the water. The barrier proved to work successfully as water colour difference was visible and ppm had reduced to approx. 100.